15 September, 2023
Prepare for the Unexpected with Eton Odyssey, Brilla Lamp, and Rush Charge Powerstation
Local Steals & Deals is your one-stop shop for real deals and real exclusives on amazing brands. Check out our hosts below, sharing some of our best sellers. Available for a limited time only–while supplies last!
To access these great savings:
Use the links provided below.
All the offers below are only available while supplies last.
Equip Yourself with Essentials for Stormy Weather!
As autumn arrives, it brings not only stunning foliage and cozy vibes but the potential for tropical storms and hurricanes. Fall weather can be unpredictable, and being prepared is vital to staying safe and comfortable during these seasonal challenges. To help you navigate through, we've curated a selection of must-have products to keep you equipped and protected. From emergency radios to versatile power stations, let's dive into a world of readiness where you're prepared for anything Mother Nature has in store.
Eton Odyssey
Deal: $78.99
Retail: $99.99
(While supplies last)
When fall brings unpredictable weather, having an emergency radio by your side is wise. The Eton Odyssey All-Band Emergency Radio ensures you're always connected and informed, even during power outages. Bluetooth capability, multiple power sources, and all-band radio reception make it your ultimate safety companion for the season. You'll love this unbeatable deal!
Shop now
Brillá Metal LED Rechargeable Power Outage Everyday Lamp
Deal: $149.99
Retail: $199.99
(While supplies last)
A Brilla Lamp is a versatile and ingenious solution that will light up your world in more ways than one. It's not just about adding charm and warmth to your space; it's a reliable light source in emergencies. With its sleek design and cutting-edge functionality, it's ready to be your guiding light when unexpected situations arise. Wireless charging capabilities also keep your devices powered up. Imagine a stormy night or a sudden power loss – with a Brilla Lamp by your side, you won't be left in the dark. Safety, style, and innovation – all in one brilliant package. Shop this exclusive deal today!
Shop now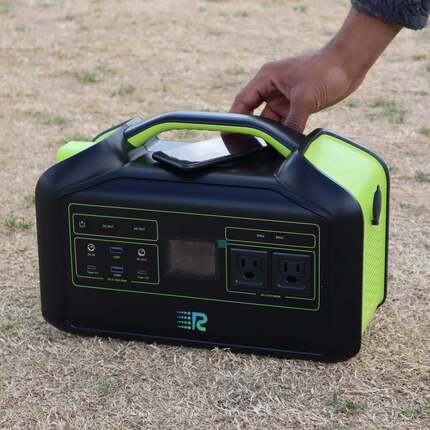 Rush Charge Power Station
Deal: $699.00
Retail: $1,495.00
(While supplies last)
Fall adventures call for reliable power, and the Rush Charge PowerStation has you covered. This compact yet powerful station provides the energy needed for camping trips, outdoor gatherings, and emergencies. With multiple ports and a lightweight design, it's your go-to solution for staying charged wherever you are. As you transition into the fall season, prioritize safety, comfort, and convenience. We've got a great deal to help you get there!
Shop now
©2023 Cox Media Group